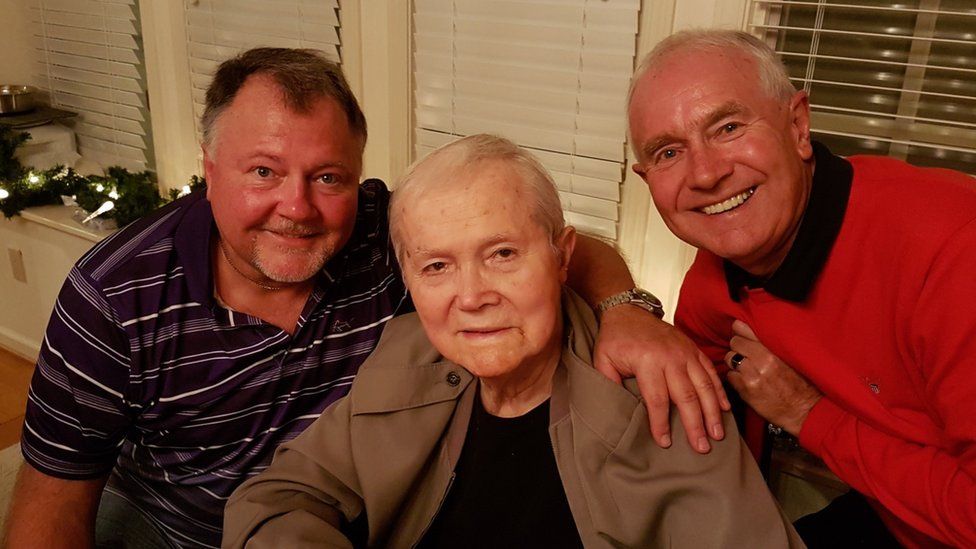 A man who discovered his birth father was an American GI has met members of his family for the first time.
Keith Barrett, from Hampshire, began to question his parentage when he realised his father, Donald, was not listed on his birth certificate.
After taking a DNA test, he discovered his birth father, Johnny Zielinski, was stationed near Wimborne, Dorset, during World War Two where he met his mother.
He has now met his birth father's family in Monterey, California.
Mr Barrett, 77, of Wickham, was 17 when he first questioned his mother about who his biological father was.
"The only thing she really would say was his name, Johnny Zielinski," he said.
"When I tried to probe she would just well up and would not discuss it at all."
Mr Barrett got on with his life and said it was only when his wife suggested doing some research to find out about his father that he decided to take a DNA test.
It revealed his genetic heritage as 50% Polish and a computer search for blood relatives showed the Zielinski family from California as having a strong DNA match.
They received the information at the same time.
He then discovered his mother met the American in October 1944 at a dance in Wimborne, and Mr Barrett was born the following year.
"There was obviously a liaison that took place, which isn't surprising bearing in mind we're five years into a war," Mr Barrett said.
"He went off to fight shortly after without knowing that I was even conceived."
Mr Zielinski, who was injured in the final year of the war and unable to have further children, died in 2014 without knowing he had a son.
Mr Barrett's cousin Mark Zielinski said: "I just wish he would have known he had a son, he would have told the world about it."
Mr Barrett was presented with some of his father's most treasured possessions, including his military dog tag.
"He will have been wearing it when he knew Mum, so that has a very special significance. It makes me that much closer to him.
"It's been a revelation, I am a changed person I promise you."