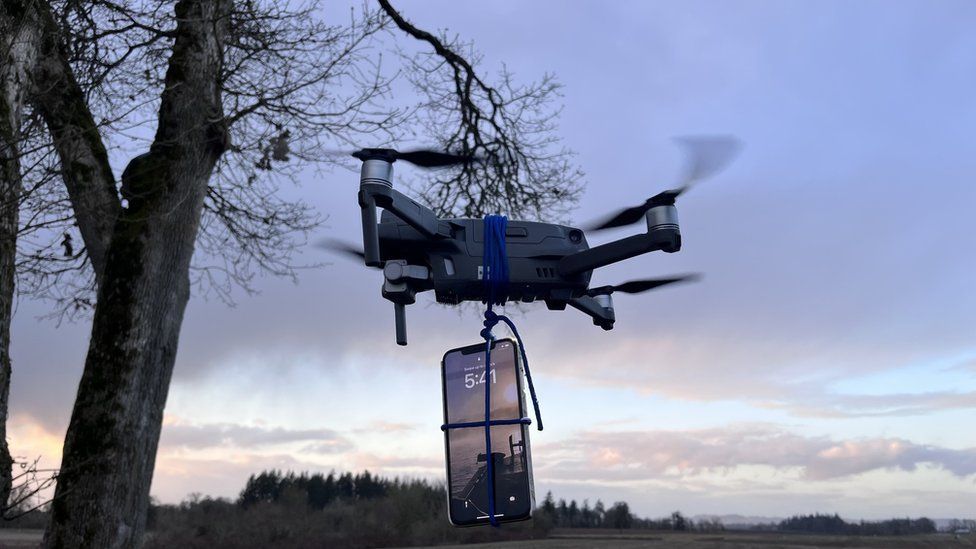 By Chloe Kim
BBC News, New York
When a US motorist got stuck in the snow on a remote road in Oregon, he used sky-high thinking to save himself.
After realising he was without mobile phone reception, he typed a text message to a trusted person showing his exact location, attached the phone to a drone and launched it several hundred feet into the air.
The airborne phone sent his message for help once it found signal.
Rescuers praised the man for making "several smart decisions".
The man, who has not been identified, was in the Willamette National Forest on a road that is not maintained in the winter.
After his vehicle got stuck, he realised there was no cell phone reception – making matters worse "his family was out of the country and nobody knew where he had gone" according to the Lane County Sheriff Search and Rescue.
"Regardless of the circumstances leading to his situation, once stranded this person made several smart decisions," Lane County Sheriff Search and Rescue said in a statement.
First, he stayed in his car.
"Rarely does anyone in Oregon die from exposure waiting in their vehicle to be found and rescued," the statement said.
"But we have unfortunately seen many poor outcomes from those who chose to walk away."
After attaching his phone to a drone, "the increased elevation allowed his phone to connect to a tower" and send his message for help.
His ingenuity allowed for rescue teams to deploy and assist him out of the situation.
While teams were rescuing the man, they also rescued another motorist who had been stranded for several days in the snow.
Officials said they were impressed with the man's creativity – but advised people to heed their warnings during wintertime travel.
They urged people to "always tell a responsible person exactly where you are going, and when you expect to be back".
Additionally, they said most rescue missions they have conducted this winter involved bigger vehicles, whose owners told rescuers they did not think they would get stuck.
The search and rescue team suggested: "Instead of asking yourself whether you think you can get through a section of road, ask yourself 'what will happen if I do get stuck?'"