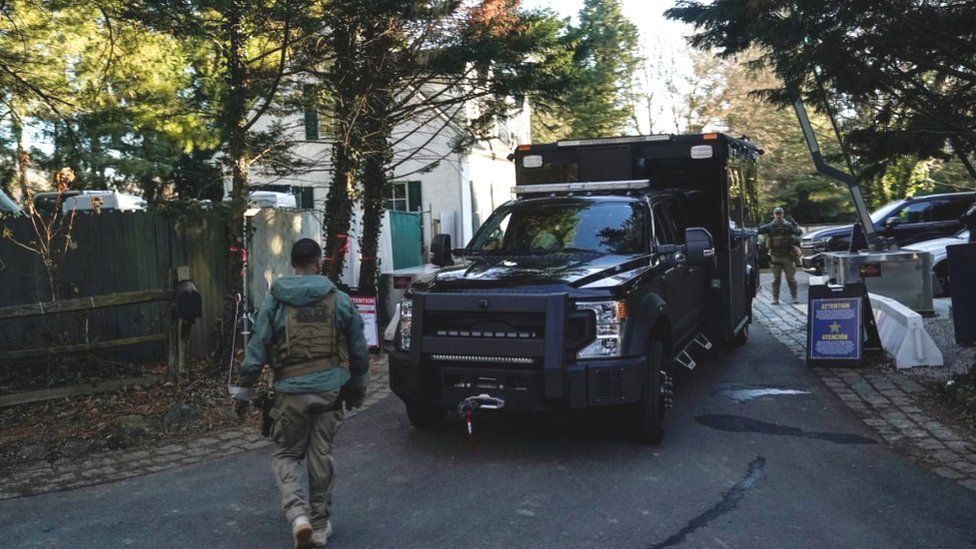 US Department of Justice (DoJ) investigators have found six more classified documents during a 13-hour search of President Joe Biden's home in Delaware, a lawyer for Mr Biden says.
Some documents seized at the Wilmington property on Friday were from his time as a senator and others from his tenure as vice-president under Barack Obama.
Lawyer Bob Bauer said "personally handwritten notes" and "surrounding materials" were also taken away.
Mr Biden and his wife were not present.
The president offered access "to his home to allow DoJ to conduct a search of the entire premises for potential vice-presidential records and potential classified material", Mr Bauer said in a statement on Saturday.
Earlier this month Mr Biden's lawyers said a first batch of classified documents had been found on 2 November at the Penn Biden Center, a think-tank the president founded in Washington DC.
A second batch of records was found on 20 December at his Wilmington home, while another document was found there on 12 January, his lawyers said.
After finding the documents, the president said his team immediately turned them over to the National Archives and the Justice Department.
A special counsel, Robert Hur, has been appointed to lead the investigation into how the documents were handled.
The discovery comes as former US President Donald Trump also faces a probe over his alleged mishandling of hundreds of classified documents at his Florida Mar-a-Lago residence and his alleged failure to comply with a subpoena.