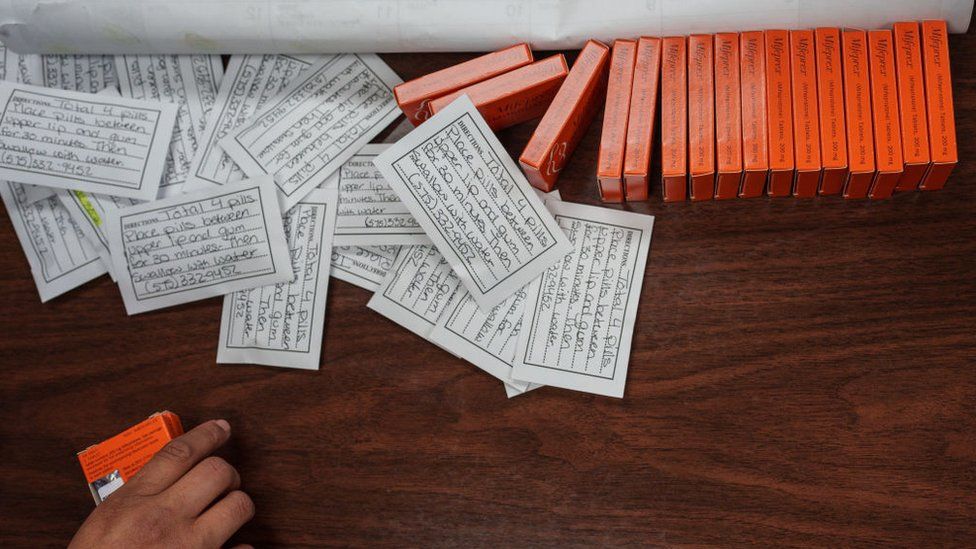 By Robin Levinson-King
BBC News
Anti-abortion activists won a historic victory at the Supreme Court last year, but the debate over one of America's most divisive issues is far from over, with focus now shifting to over-the-counter abortion pills.
Since 2000, the Food and Drug Administration (FDA) has approved mifespristone as the first step in a two-drug process to abort early pregnancies.
Last January, the FDA changed its regulations to allow retail pharmacies to give out the drug – previously, only a handful of pharmacies and specialised clinics and doctors could dispense it. The change in the law could make it easier for millions of women to obtain an abortion, since such pills are currently the most common method.
Pharmacies will have to apply to be certified to distribute the drug, and meet certain safety and privacy requirements, say US regulators.
The expansion has coincided with a number of legal and political battles over the future of mifepristone in several states.
The back and forth could affect access to the drug for millions of women across the US. Here are three states where the battle intensified this week.
California retaliates against pharmacy giant
Soon after the FDA said it would allow pharmacies to distribute mifespristone, over 20 Republican attorney generals signed letters threatening several of the nation's top pharmacies with legal action if they were to dispense the drug in their state.
"We emphasize that it is our responsibility as State Attorneys General to uphold the law and protect the health, safety, and wellbeing of women and unborn children in our states. Part of that responsibility includes ensuring that companies like yours are fully informed of the law so that harm does not come to our citizens," a letter signed by 20 Republican attorney generals read.
After receiving a similar letter from Kris Kobach, Kansas' attorney general, a Walgreens executive responded.
"Walgreens does not intend to dispense Mifepristone within your state and does not intend to ship Mifepristone into your state from any of our pharmacies. If this approach changes, we will be sure to notify you," wrote Walgreens executive vice-president Danielle Gray.
This ignited a backlash, because abortion remains legal in the state. Since the Supreme Court last summer overturned Roe v Wade, the 1973 ruling granting a constitutional right to abortion for US women, the power to legislate for or against abortion has been given to the individual states.
Since then, 13 states have banned abortion outright, while one state, Georgia, has outlawed it after six weeks of pregnancy. Others have signalled that they will restrict abortion in the future, or are fighting in court to ban it.
Last year, Kansas held a referendum on whether to make a change to the constitution to explicitly say there was no right to abortion. Voters rejected that proposed change, which meant that abortion remains legal.
The Democratic governor of California, Gavin Newsom, has hit back at Walgreens by refusing to renew the state's $54m (£45m) contract with the pharmacy giant.
Since then, Walgreens has tried to clarify its response, saying its position has always been that once it is certified to distribute mifepristone by the FDA, it will only sell it in states where abortion was legal. It has not addressed the fact that it said it would not sell it in Kansas, where abortion is legal.
Michigan repeals 1931 abortion law
On Wednesday, Michigan repealed a law from 1931 that made abortion drugs illegal. The state's top court ruled the law unconstitutional last September.
"Today's repeal of this antiquated law is a victory for millions of Michigan residents who, like myself, value bodily integrity and personal freedom," Michigan Attorney General Dana Nessel said in a news release.
The legislature also repealed the part of the law that made it illegal to advertise "any pills, powder, drugs or combination of drugs".
For years abortion had been legal in the state because of federal law. But when Roe v Wade was overturned, it created confusion. Old laws, like the 1931 ban, which had not been enforced, could suddenly be applied.
Last year, pro-choice campaigners managed to get a question on whether abortion should be a right on the November election ballot.
Over 55% of the population voted in favour of making abortion a protected right in the state constitution, which trumped the 1931 law.
Texas takes aim at FDA
Over in Texas, the second most populous state in the US, a judge is weighing a decision on whether mifepristone should be legal at all.
Although the drug was approved over two decades ago, a lawsuit filed by anti-abortion groups claims that it is unsafe and that the FDA ignored reported side effects.
Currently, the FDA says it is safe as part of a two-drug regimen to have an abortion at home, up until 10 weeks of pregnancy. The World Health Organization also says it is safe as part of a two-drug procedure, up to 12 weeks. Leading health organisations and physicians' associations have filed briefs in the lawsuit, including the American Medical Association and the American College of Obstetricians and Gynecologists, which say the drug is effective and safe.
The FDA has reported a total of 26 deaths associated with mifepristone since it was approved – a rate of about 0.65 deaths per 100,000 by-pill abortions. For comparison, the death rate associated with habitual aspirin use is about 15.3 deaths per 100,000 aspirin users.
Now all eyes are on Judge Matthew Kacsmaryk, a Trump-appointee. If he decides the FDA erred in its approval, it could affect the drug's status nationwide, and millions of women.
But not so fast, say legal experts.
In order to withdraw approval of a drug, the FDA is legally required to conduct hearings and new deliberations – a lengthy process that could take years. Earlier this year, US Attorney General Merrick Garland – the country's top lawyer – said states could not ban the FDA-approved medication.
If Judge Kacsmaryk does overturn the approval, the federal government may appeal, which means the battle over abortion pills might make its way all the way to the Supreme Court.
With additional reporting by Holly Honderich