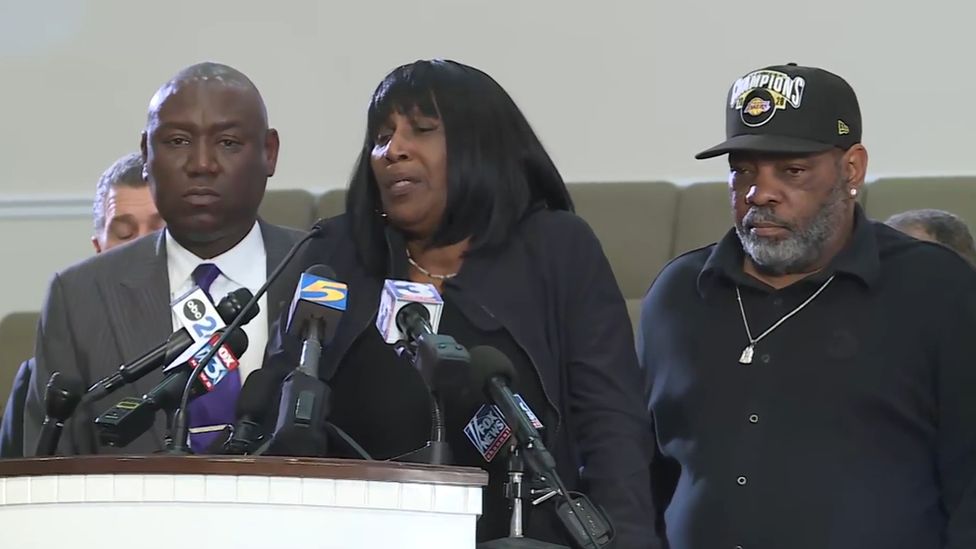 By Holly Honderich
in Washington
A 29-year-old black man who died after a police traffic stop in Tennessee was beaten like a "human piñata", lawyers for his family said.
Tyre Nichols died of unspecified injuries on 10 January, three days after he was stopped by Memphis police for reckless driving.
His family on Monday saw footage of Mr Nichols's encounter with police and described a violent, disturbing scene.
The Memphis Police Department has fired five officers following the incident.
"My son was a beautiful soul," said Mr Nichols's mother, Rowvaughn Wells. "Nobody is perfect, but he was damn near."
She said he had not used drugs, nor carried weapons, and did not like confrontation. She called his death a "murder" by police.
On 7 January, the day Mr Nichols was stopped by Memphis police, he had been on his way to Shelby Farms Park, Mrs Wells said, where he liked to skateboard and watch each evening's sunset.
City officials have said police officers pulled over Mr Nichols for reckless driving and that two "confrontations" occurred during the stop.
According to authorities, the first happened as officers approached the vehicle being driven by Mr Nichols, and he attempted to flee on foot. They said the second confrontation happened when officers tried to arrest him.
Mr Nichols then complained of shortness of breath and was taken by ambulance to hospital, police said, where he was listed in a critical condition. Officials said Mr Nichols had "succumbed to his injuries" on 10 January, but they provided no further detail. An official cause of death has not yet been disclosed.
'Non-stop beating'
At the Monday press conference, a lawyer for Mr Nichols's family, Antonio Romanucci, described the encounter as "an unadulterated, unabashed, non-stop beating of this young boy for three minutes".
"Not only was it violent, it was savage," he said.
Mr Nichols had tried to escape police to run home, his family said, alleging he was beaten by police less than 80 yards (73m) from his mother's house, where he lived.
On the video from the arrest "one of the last things we hear from him – he calls for his Mom," said attorney Ben Crump, who is also representing the family.
A photo posted to social media appeared to show Mr Nichols in hospital after the arrest, violently bruised and breathing through a tube. The video "reminded us of the Rodney King video", Mr Crump said, referring to the black motorist who was beaten by white police officers in Los Angeles in 1991.
"Unlike Rodney King, Tyre didn't survive," he said.
Mr Nichols's family did not describe the video in further detail, saying that it will be released publicly by authorities in one to two weeks.
Last week, the Memphis Police Department announced it had completed its investigation into Mr Nichols's death and said it had fired five officers: Tadarrius Bean, Demetrius Haley, Emmitt Martin III, Desmond Mills, Jr. and Justin Smith. Like Mr Nichols, all of the officers are black.
The review found the officers violated a number of department policies, including use of force, duty to intervene and duty to render aid, the department said.
"The egregious nature of this incident is not a reflection of the good work that our officers perform, with integrity, every day," said Police Chief Cerelyn "CJ" Davis in a statement.