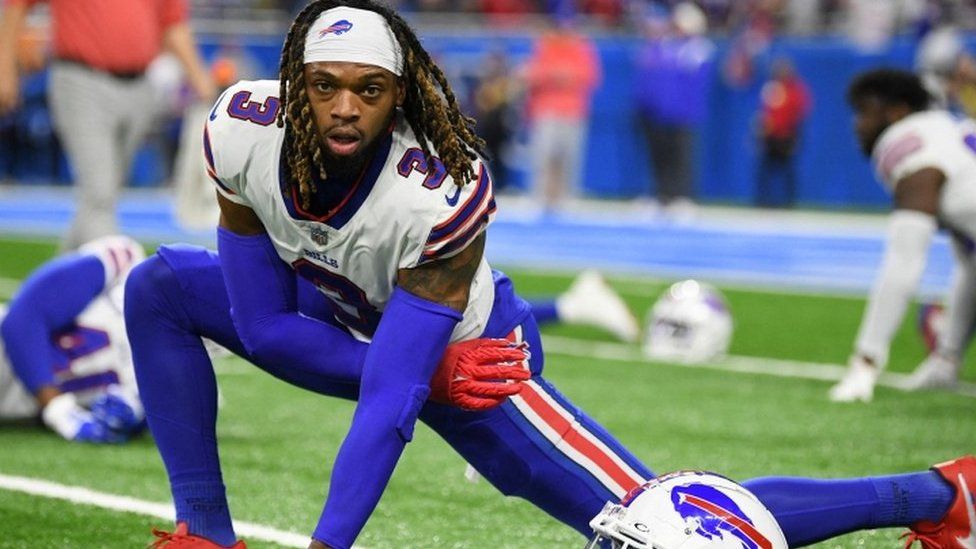 By Mike Wendling
US disinformation reporter
Activists who blamed NFL star Damar Hamlin's on-field collapse this month on Covid-19 vaccines have concocted another baseless conspiracy theory – that the player has been replaced by a "body double" or even a "clone".
It's an escalation of rumours that circulated after Mr Hamlin's injury.
The latest allegations claim the player is dead and has been "replaced".
The anti-vaccination activists stoking the wild claims on Twitter have provided no proof.
When did it start?
On Sunday, Mr Hamlin attended an NFL playoff game pitting his team, the Buffalo Bills, against the Cincinnati Bengals.
His face was covered as he walked into the stadium, and snow showers in a frigid stadium near Buffalo meant that live TV shots of him urging on the crowd from a booth far above the field were fuzzy.
After the Bills lost, 27-10, ending their season, several influential online accounts opposed to Covid-19 vaccines began to spread rumours and innuendo about the player based on the TV footage – despite the fact that Mr Hamlin had posted a clear picture from his hospital bed two weeks earlier.
Tweets and posts on fringe video sites and messaging apps were seen millions of times. Some simply cast doubt on whether Mr Hamlin had attended the game, while others went further and claimed he had died on the pitch or even, bizarrely, that he had been cloned.
Who would say such a thing?
Among those spreading the rumours was Stew Peters, one of the people behind a documentary called Died Suddenly, an online hit in anti-vaccination circles that includes a number of dubious and false claims.
An account linked to the documentary was among the first to start trying to link Mr Hamlin's injury to vaccines, despite the fact that he had taken a hit to the chest just seconds before collapsing.
Other influential accounts spreading the most recent rumours include a former reporter for fringe right-wing news outlets and Juanita Broaddrick, a woman who once accused Bill Clinton of rape and later became a supporter of Donald Trump.
In a tweet viewed more than 2.7m times, she declared: "Everyone thinks Damar Hamlin is dead… the whole thing smells." She did not respond to a request for comment, nor did Mr Peters.
Conspiracy theory expert Mike Rothschild, author of a book on the QAnon phenomenon, said some of those spreading the rumours had financial motives – promoting their websites, books, podcasts and unproven cures.
"It's the same antivaxxers and conspiracy influencers who have spent the last three years spreading conspiracy theories about Covid-19 for money," he said.
"Once there was a vaccine, they quickly added it to the grand conspiracy, saying it was poisonous, untested, and killed whoever took it," he added.
"They were desperate to link Hamlin's injury to the vaccine, and when that didn't work, they just changed some of the details."
One online video viewed tens of thousands of times showed a shot of a data-scraping website as "proof" that a death report had been filed in Mr Hamlin's name in his hometown in Pennsylvania.
However, Mr Hamlin's injury occurred in Cincinnati, in the state of Ohio. Furthermore, current Pennsylvania death records are not searchable online and a spokesman for the Pennsylvania Department of Health told the BBC such records are not made public until 50 years after a person's death.
Teammate slams 'stupid' claims
Despite the outlandishness of the false claims, the online chatter reached such a volume by Tuesday that Mr Hamlin's teammate, Bills quarterback Josh Allen, was asked about it on an American football podcast.
"That's stupid," he said. "There's absolutely zero chance. That's the Damar Hamlin, that's our guy, our brother. He was with us pre-game, post-game, he was up in the suite with his family, his little brother, one hundred percent.
"So people need to stop it." He ended his answer with an expletive.
Hamlin himself poked fun at the rumours, posting with a selfie outside a mural painted in his honour in Buffalo.