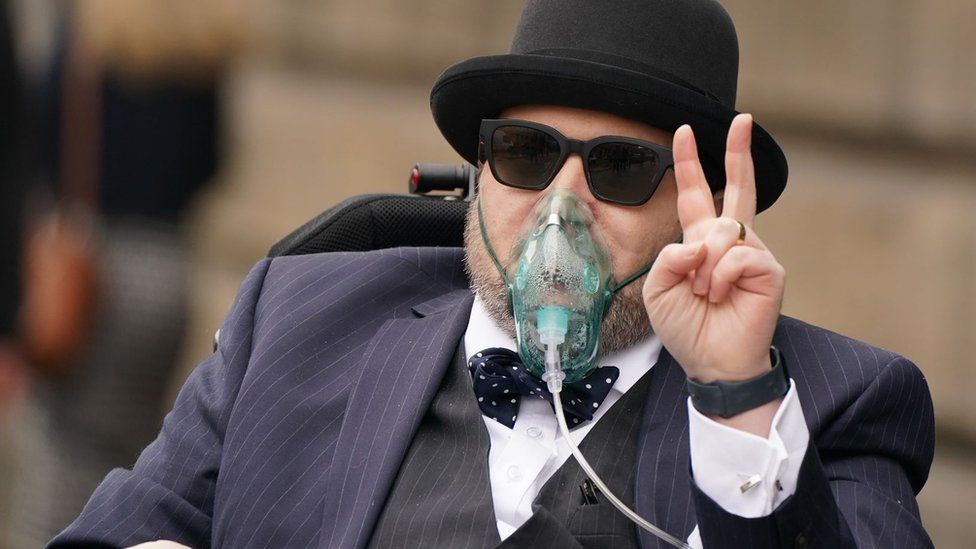 The man a Scottish court has ruled is US fugitive Nicholas Rossi has had his extradition case postponed until June.
US authorities are seeking Rossi's extradition over allegations of rape and sexual assault, alleging he faked his own death and fled to Scotland.
A hearing was due to begin into whether he should be sent back to face trial.
Rossi, 35, who denies the claims and says he is a man called Arthur Knight, was not in court in Edinburgh after refusing to get into a prison van.
His lawyer Mungo Bovey KC said he "very much regretted" asking for the case to be adjourned, but that more time was needed to prepare expert reports.
He told the court his client was suffering psychological distress and that "things have only been getting worse since the [last] hearing".
Sheriff Norman McFadyen said he was concerned the case had been "rumbling on for a very long time" and Mr Rossi's refusal to be transported to court "does not bode well".
But he concluded "with some hesitation" that it was in the interests of justice to give Mr Rossi's legal team time to prepare.
He agreed to adjourn the full extradition hearing until the end of June, when it was the court's "firm intention" that the case goes ahead.
A court ruled last November that the man arrested in a Glasgow hospital in December 2021 was US fugitive Rossi.
Edinburgh Sheriff Court heard that his tattoos and fingerprints matched those of Rossi.
American authorities then issued a second extradition warrant on a new rape allegation against Rossi, following Sheriff McFadyen's decision.
'Bullied on a daily basis'
In an application for bail in January, which was denied, Rossi said he was being bullied by fellow prisoners on the remand wing at Saughton jail in Edinburgh.
He claimed they taunted him by regularly singing John Denver's hit song Leaving on a Jet Plane at him.
"I've been treated incredibly terribly," he told Edinburgh Sheriff Court said at the time. "My wife is afraid to enter the prison.
"I've been bullied on a daily basis. I've been kept in my cell 24 hours a day. This [the bullying] includes singing of the song Leaving on a Jet Plane."
Rossi was originally arrested by Police Scotland in December 2021 after staff at Glasgow's Queen Elizabeth University Hospital recognised his tattoos – images of which had been circulated by Interpol – while he was being treated for Covid-19.
He has repeatedly insisted that he is Arthur Knight, an orphan from Ireland who has never been to the US.
He claimed he had been given distinctive tattoos matching those on the arms of Rossi while he was lying unconscious in hospital after receiving Covid treatment, in an attempt to frame him.
But after a three-day hearing, Sheriff McFadyen said he was satisfied on the balance of probabilities that he was indeed Nicholas Rossi.
He rejected Rossi's claims to have been the victim of mistaken identity as "implausible" and "fanciful", adding his repeated name changes were "highly suspicious" and "consistent with someone who was hiding from someone or something".
Rossi, who has previously appeared in court in a wheelchair, was already fighting an extradition request by authorities in Utah who allege he raped a 21-year-old woman in the state in 2008.
He had previously been convicted of sexually assaulting another woman, known as Mary, after meeting her online in 2008.
Authorities in the US have said that Rossi was also known as Nicholas Alahverdian in the state of Rhode Island, where he was involved in local politics and was a critic of the state's child welfare system.
Rossi told US media in December 2019 that he had late-stage non-Hodgkin lymphoma and had weeks to live. Several outlets reported that he had died in February 2020.
Court records showed that Utah officials were looking for him at the time in connection with an alleged rape.
When he was arrested in Glasgow he was also on the run from authorities in other US states.
The FBI also had a warrant for his arrest on charges of defrauding his foster father by taking out credit cards in his name and running up debts of more than $200,000.