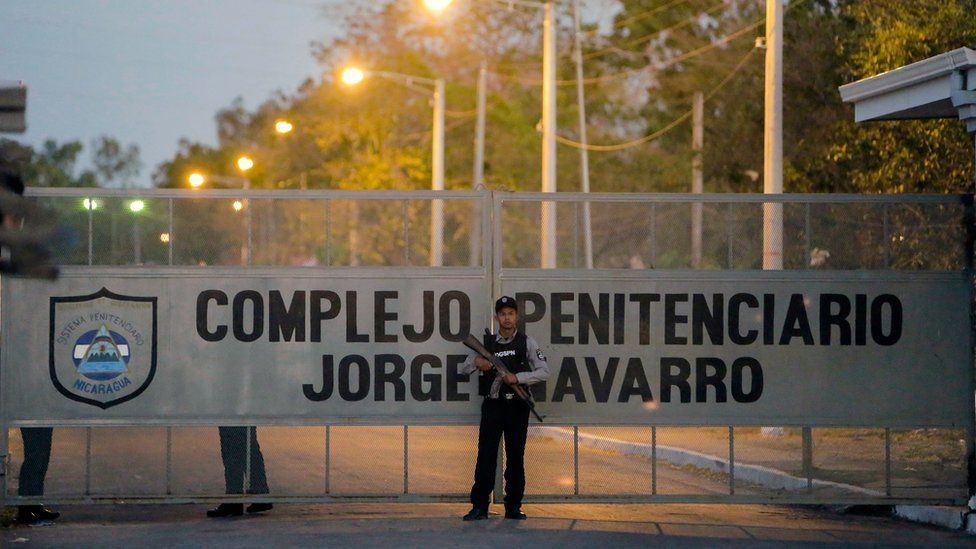 By Vanessa Buschschlüter
BBC News
Nicaragua has released 222 of the 245 opposition prisoners it was holding.
The freed prisoners, who are critics of President Daniel Ortega, have been deported to the United States.
The US state department welcomed the move, which it said had been made "unilaterally" by the Nicaraguan government.
Among those freed are opposition politicians who had planned to run against Mr Ortega in the 2021 election but who were jailed in its run-up.
With his fiercest opponents in prison, Mr Ortega won a fourth consecutive term in the election. He has been in power without interruption since 2007.
Nicaraguan opposition sources said that those freed have been stripped of their Nicaraguan nationality and an official from the Nicaraguan judiciary described them as "traitors" who had been deported.
"The deportees were declared traitors to the homeland and sentenced for different crimes and banned perpetually from publicly serving the Nicaraguan state as well as from holding positions of public office, with their citizens' rights perpetually suspended," magistrate Octavio Rothschuh said.
The Biden administration, which described the 2021 election in Nicaragua as "a pantomime", had been pressuring the Nicaraguan government to release the prisoners. The US said they had been arbitrarily detained.
The US state department said that the US had helped arrange their charter flight to Dulles airport, near Washington DC.
"Some of these individuals have spent years in prison, many of them for exercising their fundamental freedoms, in awful conditions and with no access to due process," it said in a statement.
While there has been no official confirmation yet of who is on the flight, members of the influential Chamorro family, which has long opposed the government of President Ortega, are reportedly among those released.
Cristiana Chamorro, whose mother Violeta defeated Daniel Ortega in the 1990 election, was one of those who had planned to stand against Mr Ortega in the 2021 polls.
She was seen by many in the opposition as their best hope of defeating Mr Ortega.
Her brother, Pedro Joaquín Chamorro, who was also sentenced last year, is reportedly also among the freed prisoners.
A student opposition umbrella group, Nicaraguan University Alliance, said two of its members, Lesther Alemán and Max Jerez, were also on board the plane headed to the US.
Students were at the forefront of anti-government protests which rocked Nicaragua in 2018 and the two student leaders remained vocal critics of the government led by President Ortega and his wife, Vice-President Rosario Murillo, until their arrest in 2021.
Members of the Nicaraguan University Alliance said they would continue to fight for the rights of those sent to the US so that they "can return from exile and exercise their rights fully".