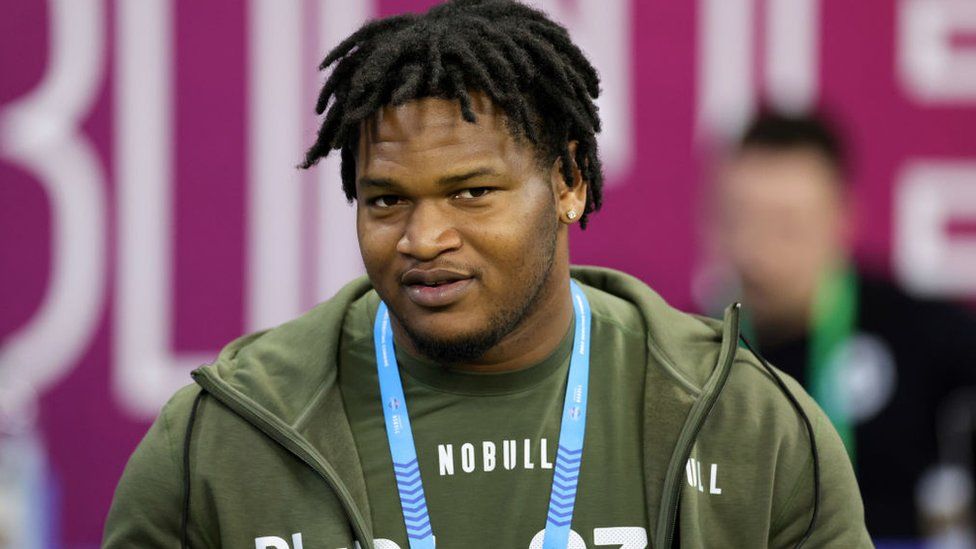 Georgia football star Jalen Carter was sentenced to probation on Thursday for his involvement in a car crash that left two dead.
Teammate Devin Willock and team staff member Chandler LeCroy were killed in the crash. Two others were injured.
The crash happened hours after a parade celebrating the University of Georgia's national college football championship title.
Carter pleaded no contest to charges of racing and reckless driving.
Earlier this month he had turned himself into police for the crash, which happened on 15 January.
Along with 12 months of probation, Carter will also pay a $1,000 fine, participate in community service and complete a defensive driving course.
The 21-year-old former defensive lineman does not face jail time.
He had been behind the wheel of a Jeep Grand Cherokee Trackhawk, allegedly racing with a separate vehicle driven by Ms LeCroy, authorities said.
Ms LeCroy was driving a Ford Expedition at speeds exceeding 100mph (160km/h). Toxicology reports showed that she had a blood alcohol concentration of more than double the legal limit.
"Mr. Carter is happy and relieved to get this matter behind him, so now he can do what he needs to do for the NFL draft," said Kim Stephens, Carter's attorney.
She added that Carter "continues to grieve for the loss of his friends and continues to pray for their families, as well as for the continued healing for injured friends".
Carter is expected to be a top pick at the NFL draft – where young athletes hope to make their football dreams come true and where contracts amounting to tens of millions of dollars hang in the balance.