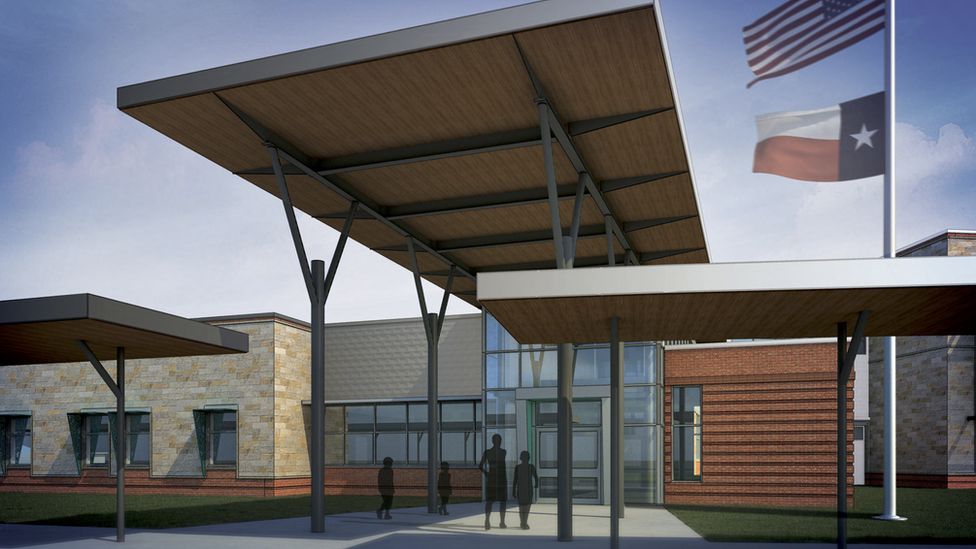 By Chloe Kim
BBC News, Washington
Eight months after a deadly shooting closed down a school in Uvalde, Texas, students and faculty are one step closer to returning.
Uvalde CISD Moving Forward Foundation, the charity behind the construction of a new school building, released renderings this week.
The foundation aims to have construction done before the start of the school year in 2024.
Two teachers and 19 children were killed at Robb Elementary last May.
The new school building will accommodate up to 800 students in grades two, three and four, or roughly ages seven to nine.
The campus will include "state-of-the-art security measures and enhanced educational offerings" according to the foundation.
"The building itself provides many opportunities for focusing on safety measures as school design has evolved since Robb Elementary was constructed," the foundation said.
The new school will be located about two miles (3.2km) away from the site of the former Robb Elementary, which was built in the 1960s.
There will be fencing around play areas, keyless entry points, nine-foot-tall privacy gates, a secure waiting space at the front of campus and a specific road to help first responders access the school.
The 120,000-square foot, two-story building designed by Huckabee Architects will feature science labs, space for hands-on learning and multiple recreational areas.
Uvalde CISD Moving Forward Foundation was created in the after the shooting to ensure "students and staff will not have to return to the site of the tragedy" according to their website.
The city's mayor previously announced that Robb Elementary will be demolished.
Sandy Hook Elementary School in Newtown, Connecticut, was also razed after 26 were killed in 2012.
A new school was later built at the same location.