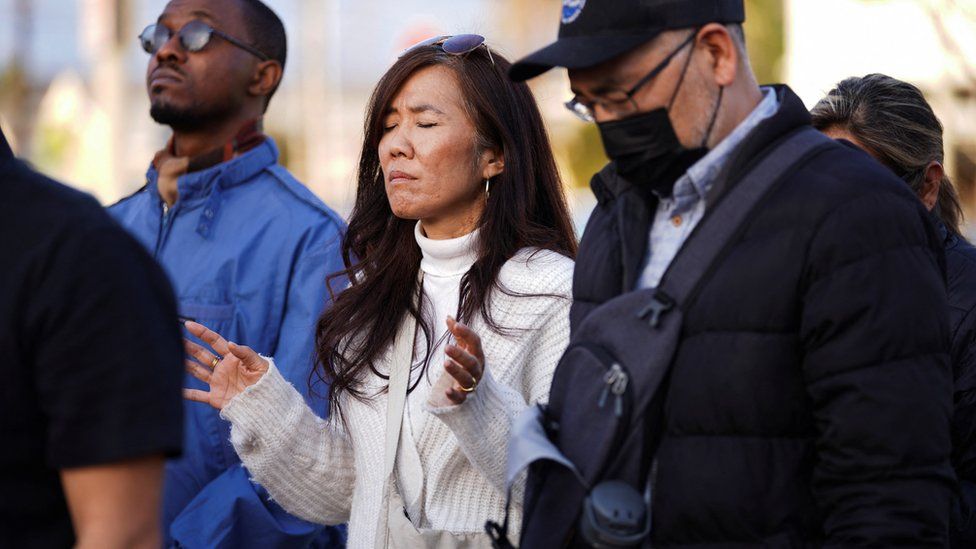 What began as a night of celebration to mark the Lunar New Year quickly turned into tragedy as a shooting spree left at least 10 people dead and 10 others wounded.
It happened as thousands had gathered in the majority Asian-American city of Monterey Park, California, for the festival.
Many expressed shock and fear on learning that a gunman had entered the Star Ballroom Dance Studio, a popular dance hall, and fired multiple rounds at patrons before fleeing the scene.
He has been identified as Huu Can Tran, a 72-year-old of Asian descent. His motive remains unclear.
Wong Wei told the Los Angeles Times that his friend was at the club but had been in the bathroom when the shooting began.
He said that when she came out, she saw the gunman firing indiscriminately from a long gun, and she also saw three people lying dead, including a boss of the club. She escaped to Mr Wei's nearby home, he said.
The attack on the dance studio took place on Garvey Avenue, home to several Asian-owned businesses.
Seung Won Choi, the owner of a seafood barbecue restaurant across the street from the club, told the newspaper that three pedestrians had run inside and asked him to lock the door.
They said they had seen a man with a semi-automatic gun and multiple rounds of ammunition, he said.
Monterey Park is home to about 60,000 people, of which roughly two-thirds are of Asian descent. Many locals were still digesting the news on Sunday, and what it meant for the community.
Connie Chung Joe, who runs Asian Americans Advancing Justice Southern California, which had a booth at the festival, told Associated Press the impact has been profound, regardless of the motive.
"Having this tragedy on one of our most important holidays… it feels very personal to our community," she said. "There is still that feeling of being targeted, and being fearful, when we hear about a shooting like this."
Monterey Park City Council member Thomas Wong, whose district is where the shooting occurred, told the Washington Post he was in shock, and anxiously waiting for news about the victims.
Also uppermost in his mind was the rise in anti-Asian violence in recent years, he said.
"Regardless of the motive and whether this was a hate crime, the fact of the matter is this type of violence is sparking fear in our community, in our Asian American community."
Pastor and writer Raymond Chang said this tragedy was another shock to a community still reeling from the spike in anti-Asian hate.
"We have not had enough time and space to heal from all the collective trauma and loss our communities have gone through," Mr Chang, who is also president of the Asian-American Christian Collaborative, told USA Today.
"Incidents like these add to the unprocessed pain and trauma that has piled up over the years."
Representative Judy Chu, who chairs the Congressional Asian Pacific American Caucus and is a former mayor of the city, tweeted: "My heart is broken for the victims, their families, and the people of my hometown Monterey Park."