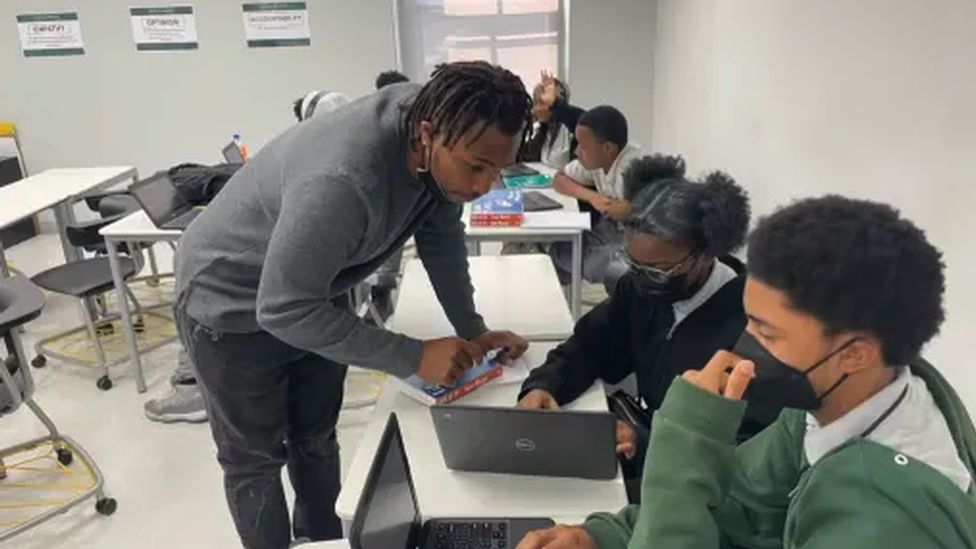 The family of a black man who died in custody after being repeatedly tasered in Los Angeles has filed a $50m (£40m) lawsuit against the city and police.
Police released footage of high school teacher and father Keenan Anderson, 31, begging for his life and shouting, "they're trying to George Floyd me".
Officers said he was arrested after trying to flee from a car crash.
Civil Rights lawyer Benjamin Crump said the lawsuit would set a precedent that could help stop police killings.
Speaking on Friday at a news conference, Mr Crump said that police "want to push this under the rug like they want to do to all the young people they unjustly kill".
He asked why "de-escalation is only for white people", adding: "Why don't you engage black men with dignity and humanity?"
Mr Anderson, the cousin of Black Lives Matter co-founder Patrisse Cullors, is survived by his six-year-old son.
His arrest took place around 15:30 on 3 January in Venice, a beachside neighbourhood of Los Angeles. He had been visiting family for the holidays during time off from the school in Washington DC where he taught English to 15 and 16 year olds.
Police were called to the scene due to a "felony hit-and-run," officers later said. They alleged that Mr Anderson attempted to carjack somebody, then caused a crash.
Body-worn police camera footage shows him in distress when they arrive, telling the first officer "somebody is trying to kill me".
When he is first approached by a motorcycle officer, who tells him to "get up against the wall", Mr Anderson responds: "I didn't mean to. I'm sorry."
When the officer attempts to arrest him with force, Mr Anderson stands up to move towards the road, saying: "I want people to see me," and "you're putting a thing on me."
As more officers arrive and pin him to the road, he shouts "please" and "help" and "they're trying to George Floyd me!"
The murder of George Floyd in May 2020 by an on-duty policeman in Minneapolis, Minnesota, shocked the county and led to nationwide calls for police reform.
The stun gun was initially used on Mr Anderson for about 30 seconds after an officer warned him multiple times to "stop or I'm going to tase you". Moments later, he was tasered again for roughly five more seconds.
An ambulance arrived about five minutes later, police said, and took Mr Anderson to a local hospital. However about four hours later he went into cardiac arrest and died.
A toxicology report produced by the Los Angeles Police Department (LAPD) showed that Mr Anderson's blood tested positive for cannabis and cocaine.
His family have called for the full video of the arrest to be released. They have also called for Police Chief Michel Moore to be fired, and for an end to qualified immunity, which protects individual officers from being sued by members of the public.
On Friday, Mr Crump said that they have asked the Department of Justice to investigate the death.
"If you continue to blame the victim and not hold officers accountable, why would they ever stop killing us?" said Dominique Anderson, Keenan's younger sister, at a rally on Thursday.
"The police are supposed to be here to protect and serve the people, and yet they abuse their authority and have a lack of respect for human life."
"He also deserves to be hugging his son, but instead his son is left fatherless because of a chance encounter with LAPD taking Keenan's life," she continued.
The school where he taught, Digital Pioneers Academy, released a statement saying that the school community is "angry that, once again, a known, loved, and respected member of our community is no longer with us".