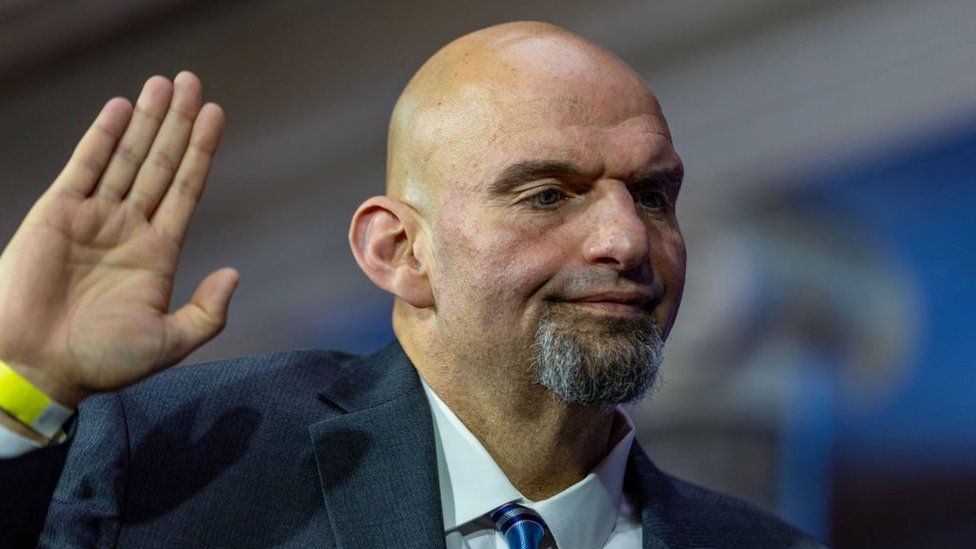 By Brandon Drenon
BBC News, Washington
US Senator John Fetterman has had an overnight stay at a hospital in Washington after he reported feeling lightheaded.
The Pennsylvania Democrat, who was sworn into office last month, suffered a stroke in May and was in recovery for much of his general election campaign.
"Initial tests did not show evidence of a new stroke," his communications director Joe Calvello told US media.
But doctors had kept Mr Fetterman for overnight observation, he said.
Mr Calvello added that the lawmaker "is in good spirits and talking with his staff and family".
Mr Fetterman is said to have been at a retreat with other Senate Democrats when he began feeling lightheaded and was taken to George Washington University Hospital.In May, Mr Fetterman easily won the Democratic nomination for the open US Senate seat in Pennsylvania four days after suffering a stroke.
He is said to have endured a nearly three-hour surgery on the day he won the primary contest, and spent a total of nine days in hospital.
According to a statement issued by his doctor, the 53-year-old's stroke was caused by atrial fibrillation, or an irregular heart rhythm.
He also suffers from cardiomyopathy, a disease that makes it harder for the heart to pump blood to the rest of the body and can cause heart failure, and was fitted with a pacemaker and defibrillator.
Mr Fetterman returned to the campaign trail in August with significant speech impairments, and his health became a focus of an increasingly tight race.
But the Democrat ultimately defeated his Republican opponent – Mehmet Oz, better known as the celebrity surgeon Dr Oz – in November's general election by a margin of 51 to 46.
That victory, flipping a Republican seat, was key to his party retaining control of the upper chamber.