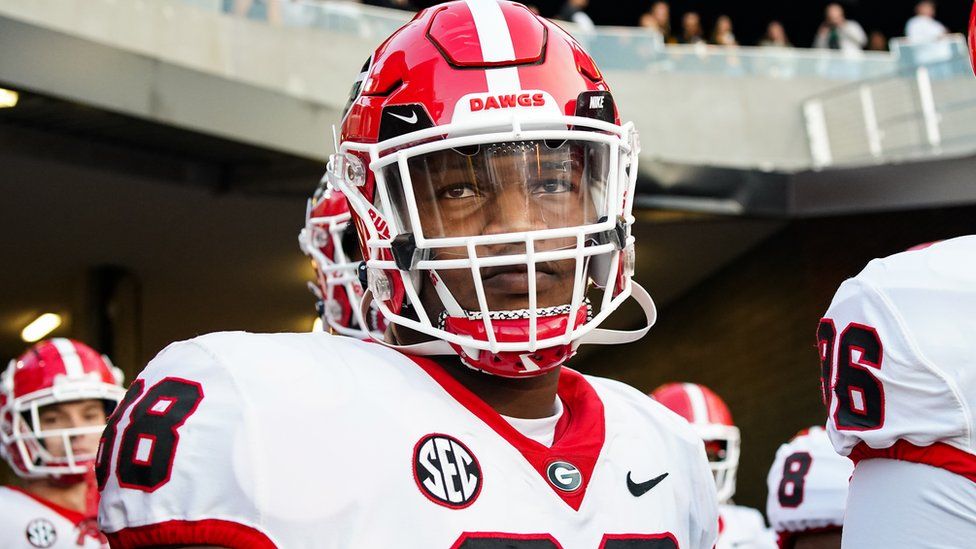 By Brandon Drenon
BBC News, Washington
A star college football player hotly tipped for the NFL is facing arrest over a car crash that left two dead, including one of his teammates.
Police in Georgia have an arrest warrant for Jalen Carter, 21, for alleged reckless driving and racing over the collision on 15 January.
On Twitter, Mr Carter released a statement saying he expects to be "fully exonerated".
He has been widely projected to be a top-five NFL Draft pick next month.
Being chosen virtually guarantees footballers becoming overnight millionaires.
Police say Mr Carter, a defensive tackle for the Georgia Bulldogs, was behind the wheel of a Jeep Grand Cherokee Trackhawk in a high-speed race that ended the lives of two men: Chandler LeCroy, 24, the team's recruiting analyst, and Devin Willock, 20, Mr Carter's teammate.
Mr LeCroy was driving a Ford Expedition at speeds exceeding 100mph (160km/h). Toxicology reports showed that Mr LeCroy had a blood alcohol concentration of more than double the legal limit.
Two other members of the Georgia football team were injured in the accident, which police had initially thought involved only one vehicle.
"The evidence demonstrated that both vehicles switched between lanes, drove in the centre turn lane, drove in opposite lanes of travel, overtook other motorists, and drove at high rates of speed, in an apparent attempt to outdistance each other," the Athens-Clarke County Police Department said in a statement.
Mr Carter received the arrest warrant notification on Wednesday while in Indianapolis, Indiana, at the NFL scouting combine, an annual event that acts as an official audition among college's best football players.
It precedes the NFL Draft, where young athletes hope to make their football dreams come true and where contracts amounting to tens of millions of dollars hang in the balance.
On Twitter, Mr Carter released a statement saying he will return to Athens, Georgia, to answer the misdemeanour charges and "make certain that the complete and accurate truth is presented".
He said media reports had contained "inaccurate information" about the crash, without specifying details.
University of Georgia football head coach Kirby Smart said: "The charges announced today are deeply concerning, especially as we are still struggling to cope with the devastating loss of two beloved members of our community."
The accident occurred six days after Georgia won their second consecutive national college football championship, and hours after a parade celebrating that victory.