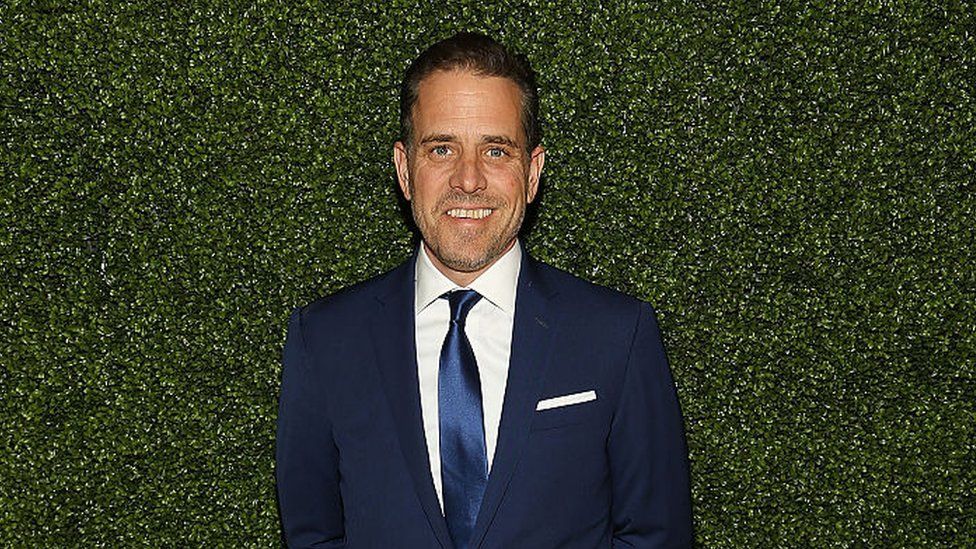 By Sam Cabral
BBC News, Washington
Hunter Biden, the US president's embattled son, is suing a Delaware computer repair shop owner over the handling of his private laptop.
Mr Biden and his attorneys allege John Paul Mac Isaac illegally copied and distributed private information from the laptop's hard drive.
That personal data was used by Republicans to attack Joe Biden during the 2020 presidential election.
Mr Isaac argues the laptop became his property when it was abandoned.
In a suit he filed last year, Mr Isaac accused Hunter Biden, the Biden 2020 campaign, a Democratic congressman and two US media outlets of defaming him by claiming he illegally accessed the data.
Hunter Biden's counterclaim, filed on Friday in a Delaware district court, claims Mr Isaac gave away his data to "political enemies" because he opposed his father's candidacy.
The document alleges that the repairman sent copies of the hard drive to his father in New Mexico and to a lawyer who worked with Mr Trump's then-personal attorney, Rudy Giuliani.
Mr Giuliani and other allies of Mr Trump including Steve Bannon, would later gain access to some of the data.
"Mac Isaac intended and knew, or clearly should have known, that people to whom he provided the data that he believed to belong to Mr Biden would use it against then-candidate Joseph Biden and to assist then-President Trump," the filing reads.
It adds that disseminating private data in this manner "is offensive and objectionable to Mr Biden, and would be highly offensive and objectionable to any reasonable person".
The laptop's existence was first brought to the public's attention by the conservative-leaning New York Post less than one month before the 2020 election.
The Post alleged that emails found on its hard drive suggested Mr Biden's business dealings abroad were influencing US foreign policy while his father was vice-president.
Donald Trump and Republican Party operatives seized on it as a campaign issue, saying it was evidence of the Biden family's corruption.
The Biden campaign said at the time that the leaked data might have been linked to a Russian disinformation campaign to influence the election, but it provided no evidence for the claim.
More material from the laptop has since been released, painting a sordid picture of the scandal-plagued Mr Biden. They include texts and financial records related to his overseas business dealings in China and Ukraine, as well as provocative photos and videos of him having sex and doing drugs.
Often referenced in conservative US media as the "laptop from hell", the computer itself is now in the FBI's possession.
The agency has been investigating the president's son since 2018 over his foreign business dealings.
Hunter Biden, 53, and his attorneys have shifted their strategy in recent weeks as a new Republican majority in the US House of Representatives vows to step up scrutiny of the Biden family.
On Thursday, House Oversight Committee chairman James Comer alleged that Hunter Biden and at least two relatives received more than $1m in funds from a Chinese energy company.