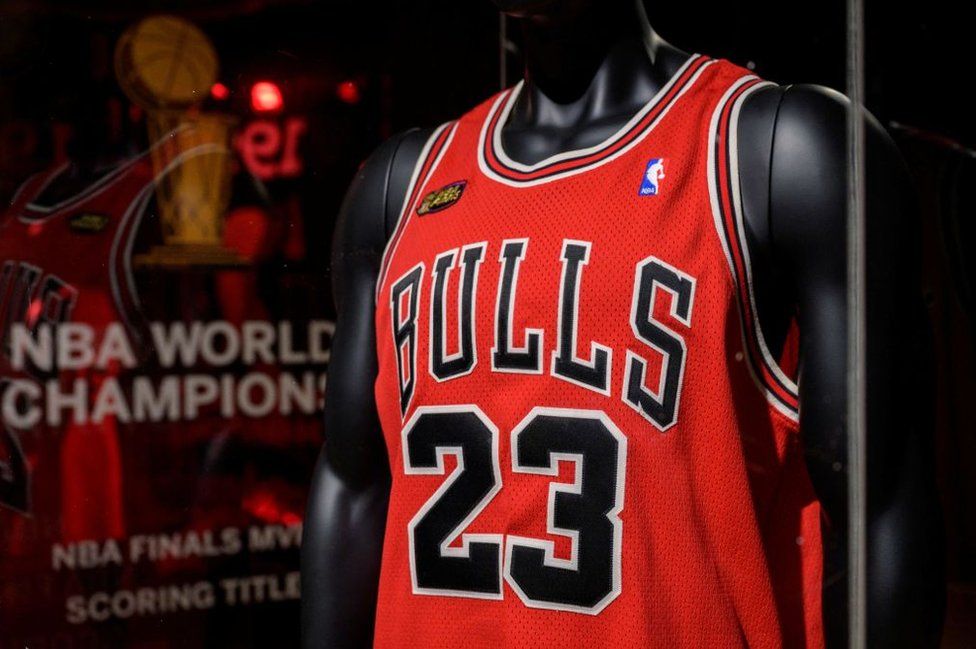 By Simon Armstrong
BBC News
Prices in the booming sports memorabilia market show no sign of slowing. But how do collectors spending thousands – or even millions – of pounds know they are buying the genuine article?
When the hammer went down on Michael Jordan's No. 23 jersey from the opening game of the 1998 NBA Finals, the $10.1m (£8.8m) price made headlines across the globe.
Soaring like the Chicago Bulls legend himself, the figure towered above the previous high of £7.1m set just months earlier for Diego Maradona's so-called "Hand of God" football shirt.
While very few people could ever contemplate battling for those particular items, the wider market continues to thrive with thousands of pieces of kit and equipment traded annually by auction houses, specialist websites and private collectors.
Months, years and decades later, though, how easy is it to confirm a shirt or pair of boots belonged to a particular player and what happens when ownership of an item is disputed?
Earlier this month a shirt said to have been worn by footballer Jim Baxter when Scotland defeated world champions England at Wembley in 1967 was withdrawn from sale by Glasgow auction house McTear's after two other parties claimed jerseys they own are in fact the real deal.
And Maradona's family attempted to halt the sale of the Hand of God shirt last year alleging it was not the one the star had been wearing in the second-half of Argentina's 1986 World Cup quarter-final, also against England, when he scored two of the most famous goals of all time.
Sotheby's said "remarkable provenance" – a record of where the item had come from – proved that claim was without merit.
Swapped with England midfielder Steve Hodge, the exchange had been described in detail by both players in subsequent books, with the jersey displayed at the National Football Museum for nearly 20 years.
Photo-matching specialists were also able to provide "conclusive" results by examining unique details such as patches, stripes and numbering.
Sotheby's chief science officer reviewed those results to give a further level of confirmation, a spokeswoman explained.
Trying to build a picture of an item's history is often a "minefield", says David Convery, head of sporting memorabilia at Northamptonshire-based Graham Budd Auctions.
"As specialists, there are a lot of methods we use for shirts – little details the public might not be aware of – as we go through the verification process.
"Proving it is the hardest thing to do. In most cases though we start with the vendor. Is it an ex-player or family member?"
Even with decades of experience – including working at Christie's where he helped sell Pele's Brazil shirt from the second-half of the 1970 World Cup final for almost £160,000 – Convery says there are times where help is enlisted from private collectors who specialise in a particular area.
Altogether, such research leads to "hundreds and hundreds of items" being rejected each week having failed to pass the company's verification checks.
"One thing I've certainly learned is not to take anyone's word," says his colleague Adam Gascoigne, Graham Budd's chief executive officer.
"It can be innocent – not everything is somebody trying to fake something – but details get lost in the mists of time.
"I've seen numerous examples of players [mistakenly] having it in their head it's a shirt they wore in a particular a game, especially the 70s and 80s when there wasn't really a memorabilia market and people didn't pay much attention [to what they had or where they kept it afterwards]."
For Gascoigne, "transparency" is key. He believes bidders should feel assured by the steps reputable firms take but advises they always read listings carefully and do additional research.
"We're obviously trying to describe something accurately and if we can't prove it's a match shirt, we won't say it is.
"When you're dealing with hundreds or thousands of lots mistakes do happen. We'll pick up the vast majority before they get to auction, but occasionally something will pop up.
"Where values increase, the temptation to fake things is obviously greater, particularly with autographs. It's well documented how many fake Muhammed Ali signatures there were in the 90s and 2000s.
"Items themselves are more difficult. I like to think we're always on our guard.
"I don't think [problems with auction houses are] particularly common if you consider how many lots a year must be sold. Many sales are also done privately and through online marketplaces like eBay. That's a bit of a murky area.
"I can only talk from our perspective. If there's any ambiguity then it's best to take the item down until it's resolved."
Once such instance occurred last year when the firm withdrew a shirt billed as worn by Sergio Aguero when he scored his famous injury-time winner on the final day of the season to give Manchester City the 2011-12 Premier League title.
The reasons behind the decision have not been made public.
"It's really difficult to comment on that one," Gascoigne says. "I think the best thing I can say is some information came to light and that it was better to take the item down.
"There was a lot of disappointment and it was unfortunate it got to that point, but you can only deal with the information when you get it.
"[Neville's is] a phenomenal collection. He loans memorabilia to the National Football Museum and he's a long-standing client. When people of that standing have something, it's a serious item. It's not just someone you've never heard of."
Mr Evans did not respond to a request for comment.
Ultimately, Convery says, any doubts about the wider market would end up damaging firms' reputations and – as they take commission – their bottom line.
"To see these items is amazing. I'm probably the only Scotsman to have held a World Cup medal from every tournament as well as nine of the 11 [initially] given to the 1966 England team.
"We want to see things be as right as they can possibly be then customers can buy with confidence.
"With such high values, people need to get it correct. That's for sure."
Related Internet Links
The BBC is not responsible for the content of external sites.