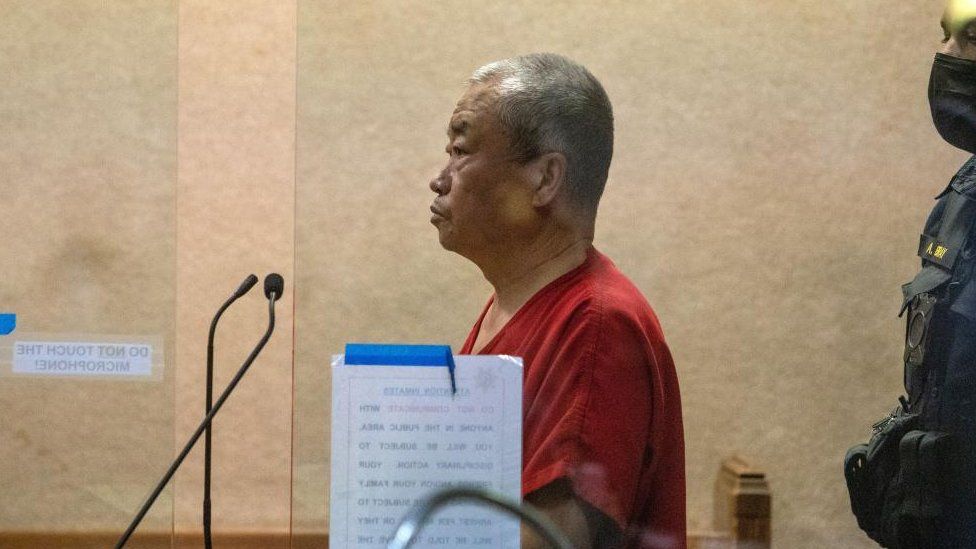 By Chloe Kim
BBC News, Washington
A California prosecutor has said the Half Moon Bay gunman was angered by a $100 (£80) repair bill he had to pay following a collision between his forklift and a co-worker's bulldozer.
San Mateo County District Attorney Steve Wagstaffe confirmed local news reports that the suspect was involved in a workplace dispute over the bill.
Chunli Zhao, 66, faces seven counts of murder and one of attempted murder.
The suspect was employed at a local mushroom farm.
In separate interviews, Mr Wagstaff told station KTVU and CNN that the suspect told law enforcement that the repair bill might have "lit the candle" that led to the shooting.
In a jailhouse interview last week, the suspect told a local San Francisco station, KNTV-TV that he was bullied and worked long hours on the farm and that his complaints went ignored.
Speaking in Mandarin, Mr Zhao, a Chinese national, told the station he has a green card and has been in the US for 11 years.
All of the victims in last week's shooting were agricultural workers. Four of those killed were shot at California Terra Garden – the farm where the suspect lived and worked.
Three people were killed at Concord Farms, where the alleged gunman had previously been employed. Six men and two women died in the shooting and the victims were all Asian or Hispanic adults.
Six have so far been identified by the local coroner's office. They are: Yetao Bing, 43; Qizhong Cheng, 66; Aixiang Zhang, 74; Jingzhi Lu, 64; Zhishen Liu, 73 and Marciano Martinez Jimenez, 50.
The gunman is scheduled to appear in court on 16 February. He has yet to enter a plea.