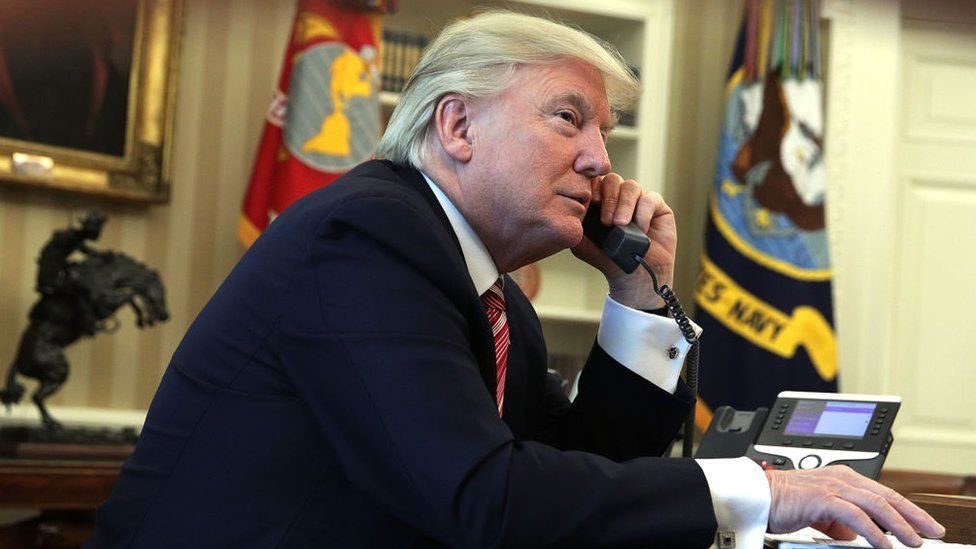 By Sam Cabral
BBC News, Washington
A judge in Georgia will soon decide whether to release a grand jury report on ex-President Donald Trump's efforts to overturn his 2020 election loss.
The report contains the findings of an eight-month criminal probe into Mr Trump's pressure campaign to challenge his narrow defeat in the state.
The grand jury, dissolved two weeks ago, did not have indictment powers but may have recommended charges.
No former president has been indicted in US history.
Fulton County District Attorney Fani Willis, who received the body's findings two weeks ago, will appear in court on Tuesday and likely call for the report's full or partial release.
Ms Willis convened the 26-member grand jury in January 2022 to investigate the attempts to reverse Mr Trump's 11,779-vote loss to Joe Biden as well as the efforts to send an "alternate" slate of Republican presidential electors from the state.
Among the potential crimes it looked into were solicitation of election fraud, making false statements to government officials and racketeering.
That includes an infamous phone call in January 2021 between Mr Trump and Georgia Secretary of State Brad Raffensperger, in which the then-president said he wanted "to find 11,780 votes, which is one more than we have".
Mr Trump has described the investigation as a "strictly political witch hunt" and has repeatedly characterised the call as "perfect".
Ahead of Tuesday's hearing, he insisted on his Truth Social platform that his Democratic opponents had cheated to win, writing: "Many people, including lawyers for both sides, were knowingly on the line. I was protesting a RIGGED & STOLEN Election, which evidence proves it was."
Attorneys for Mr Trump have said they "will not be present nor participating in Tuesday's hearing".
"To date, we have never been a part of this process. The grand jury compelled the testimony of dozens of other, often high-ranking, officials during the investigation, but never found it important to speak with the President," they wrote in a emailed statement to CBS News, the BBC's US partner.
But potential targets of the investigation may appear in the Fulton County courtroom.
That includes a group of 16 Georgia Republicans who participated in the alternate elector scheme, and Mr Trump's one-time personal attorney Rudy Giuliani.