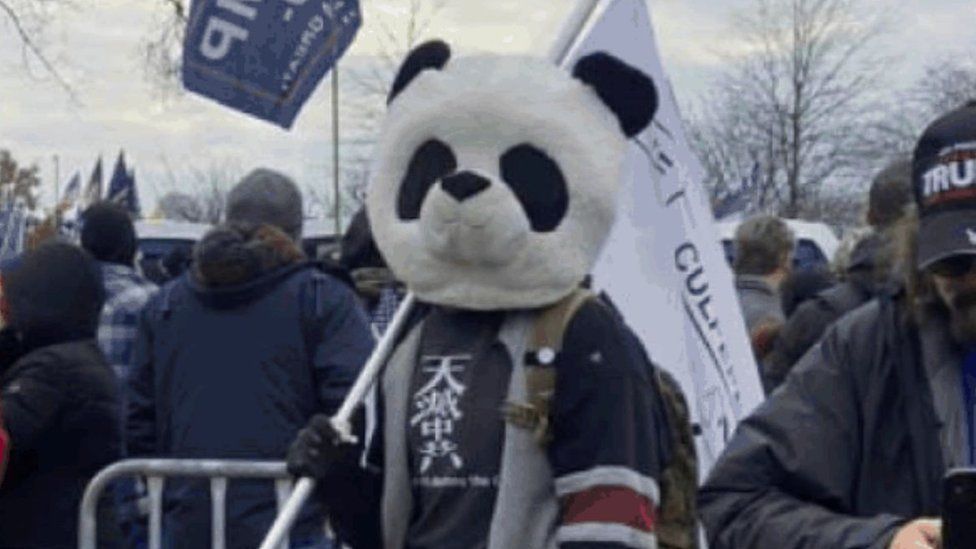 By Bernd Debusmann Jr
BBC News, Washington DC
The FBI has arrested a man alleged to have taken part in the 6 January 2021 Capitol riot while wearing an unlikely mask: an enormous panda head.
Jesse James Rumson – dubbed the "sedition panda" by some – was arrested in Florida.
He now faces a series of charges, including assaulting or resisting a police officer and engaging in physical violence on restricted property.
Nearly 1,000 people have been arrested since the riot.
According to court documents, Mr Rumson was identified by the FBI after receiving a tip and reviewing footage that showed him putting on and taking off the panda mask while on his way to the Capitol, with his face in full view.
There, he is believed to have been among the first rioters to enter the building through a large door that had been breached.
Images taken inside the building appear to show the panda-mask-clad Mr Rumson roaming the halls, before eventually abandoning the costume and leaving the building.
In total, prosecutors believe that Mr Rumson spent only about 15 minutes in the Capitol before leaving. Outside, however, footage shows that he encouraged other rioters to "get a ram" to breach another entry point.
The affidavit notes that he later assaulted at least one police officer by "running through the crowd towards the officer, reaching out grabbing the officer's face shield, which forced the officer's head and neck backwards and upwards".
Other images of Mr Rumson – including many in which he allegedly wore the panda mask – were widely shared by web sleuths attempting to track down rioters.
In addition to the assault charges, Mr Rumson has also been accused of disorderly conduct in a Capitol building, obstruction of law enforcement during civil disorder, and disorderly and disruptive conduct, among other charges.
It is unclear when he will appear in court. BBC News has reached out to the FBI and justice department for comment.
According to the Department of Justice's latest report on the investigation into the 6 January riot, as of 7 February over 985 people had been arrested in nearly every US state and Washington DC.
Of the total, 319 were charged with assaulting, resisting or impeding officers or employees, including 105 people who have been charged with using a deadly weapon or causing "serious bodily harm".
The FBI is still seeking the public's help in identifying and finding about 260 people who took part in the riot, including some of whom were filmed attacking police officers and journalists who were at the Capitol.