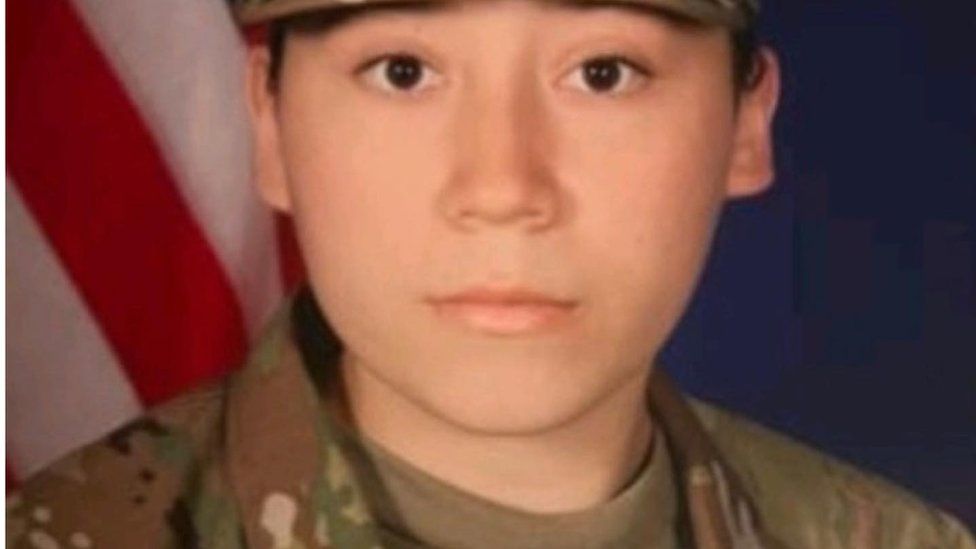 By Madeline Halpert
BBC News, New York
The parents of a female soldier who died at a US military base in Texas are raising questions after army officials said this week no foul play was suspected in her death.
Pte Ana Basaldua Ruiz, a 20-year-old combat engineer stationed in Fort Hood, Texas, died Monday, the military said.
Army officials told Basaldua Ruiz's parents she died by suicide, Telemundo reported.
Her parents said Basaldua Ruiz said she was sexually harassed before her death.
The US military said on Thursday an investigation into the incident was still underway.
"The Department of the Army Criminal Investigation Division (CID) officials have confirmed that at this point in the investigation into the death of Pte Ana Basalduaruiz no foul play is evident, and will remain under investigation," officials said. "Army CID will continue to conduct a thorough investigation and gather all evidence and facts to ensure they discover exactly what transpired."
Basaldua Ruiz – who was from Long Beach, California – had served with the 1st Calvary Division for the past 15 months, Fort Hood officials said.
"We are deeply saddened by the loss of PV2 Ana Basalduaruiz, and we extend our sympathies to her father, mother, and her sister," Lt Col Patrick Sullivan, a commander of the 91st Engineer Battalion, said in a statement.
Basaldua Ruiz's mother, Alejandra Ruiz Zarco, who lives in Michoacán, Mexico, where she raised her daughter, told Noticias Telemundo that her daughter had said her superior was harassing her and that she was receiving constant sexual advances from other people at the base.
Her father, Baldo Basaldua, said his daughter told him shortly before her death that "her whole life was going wrong and that she wanted to die".
Army officials have been providing inconsistent answers to Basaldua Ruiz's family about her death, according to Stephanie Gattas, a spokesperson for the family who founded the Pink Berets, a Texas non-profit that works with women in the military struggling with trauma.
"They're not getting what they're asking for in terms of information," she said. "We're trying to get to the root of the truth."
The Fort Hood, Texas base has came under fire for a series of deaths there, including the case of 20-year-old Vanessa Guillén, who was killed at the base in 2020. Her family alleged she was sexually harassed by a supervisor before she was killed.
Authorities allege a soldier, Army Specialist Aaron Robinson, killed Guillén and fatally shot himself as officials were close to arresting him. Cecily Aguilar, who authorities said was Robinson's girlfriend, also pleaded guilty last November for helping him dispose of Guillén's body.
An investigation was launched into the US Army base after Guillén's death, which led to more than a dozen leaders being relieved of duty.