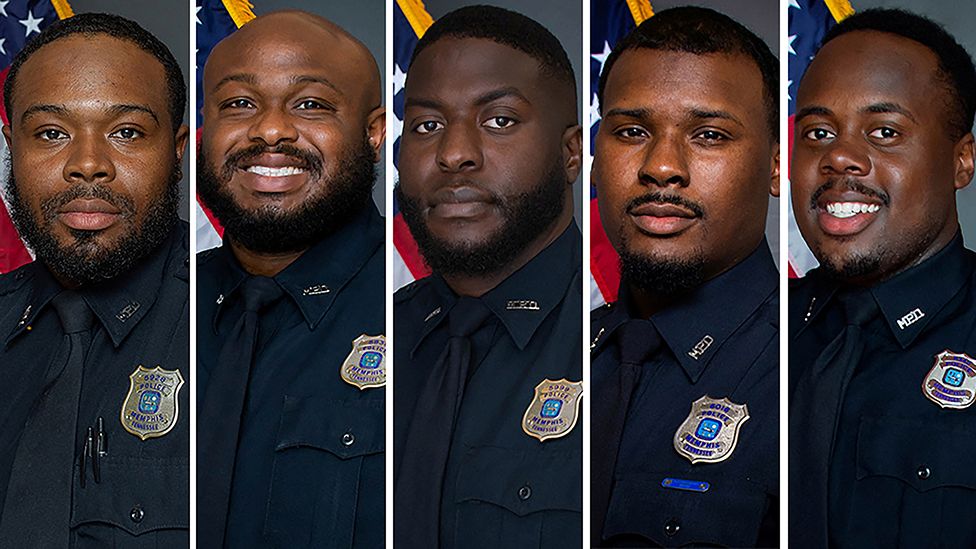 By Chelsea Bailey & Holly Honderich
in Memphis and Washington
At the VIP Barbershop less than a mile away from where Tyre Nichols was attacked by five Memphis Police officers, PJ, the shop's owner, described the moment he realised that Mr Nichols was from his community.
He recognised him as the quiet young man who would skate through his shop's parking lot.
"He would ride his skateboard with headphones on, just coasting and minding his business," he said. "He never bothered anyone."
As PJ spoke about Mr Nichols, 29, his violent death and the video of his beating that's soon to be released, the barbershop's lunchtime crowd nodded in agreement.
"It's a shame, it's embarrassing," said a man named London, adding that it's painful to add yet another name to the long list of unarmed black men killed by police.
More difficult to discuss perhaps, was the race of the police officers themselves. All five of the men, now facing murder charges, are black too.
"I heard a couple of them were just standing around looking instead of saying, 'Hey man don't do that, stop!' You're just as guilty if you just stand there and let that happen," PJ said.
It makes Mr Nichols' death feel different, he added.
It looked different, too, from some of the most infamous cases of police killings involving black victims and primarily white officers: Rodney King in Los Angeles, Michael Brown in Ferguson, and George Floyd in Minneapolis.
But experts on race and policing told the BBC that the involvement of black officers in Mr Nichols' death was unsurprising.
"I wasn't surprised because Memphis is a majority black city," said Alexis Hoag-Fordjour, a professor at Brooklyn Law School and co-director of the Center for Criminal Justice. She practised law in Memphis for a decade. "The elected officials, those that work for the city, the county, there's a lot of black leadership."
Indeed, under Memphis Police Chief Cerelyn Davis – the first black woman to serve in that role for the city – the majority of the force is black, according to the city's website.
But there is no clear answer as to why these officers attacked Mr Nichols and how, exactly, the race of all six men may have led to his death.
Chief Davis told the BBC News she still struggles to explain what happened, two weeks after she first saw the video of Mr Nichols' beating.
"The mentality of what I saw, it's very difficult to explain," she said, adding that she "can't answer" if the encounter would have ended differently had Mr Nichols been white. "It doesn't matter what colour these officers were, doesn't matter what colour the driver was. If you look at the video, race has nothing to do with it," she said.
Mr Nichols' mother, RowVaughn Wells, told the BBC that it was the race of the victim – in this case her son – and not the race of the perpetrators that mattered.
"It's not about the colour of the police officer. We don't care if it's black, white, pink, purple. What they did was wrong," she said.
"And what they're doing to the black communities is wrong. We're not worried about the race of the police officer. We're worried about the conduct of the police officers."
Professor Hoag agrees. The race of police officers is not the primary issue, she said. Instead, it's a problem of policing.
"Policing in this country is focused on control, subordination and violence – regardless of the race of the officer," she said. "Society views black people as inherently dangerous and criminal… even if you have black people in the position of law enforcement, that doesn't mean that proposition goes away."
According to data collection by Mapping Police Violence, black people in the US are approximately three times more likely to be killed in comparison to their white counterparts.
The picture is less clear on the race of officers who perpetrate police brutality.
"We do know that there is more anti-black bias among white officers than black officers but we also know that black people and black officers have anti-black bias too. We're talking about a difference in degree," said Khalil Gibran Muhammad a professor of race and public policy at Harvard Kennedy School.
The Stanford prison experiment tells us that "bad things happen in places built to do bad things", he said. "Anyone who dons the uniform is more likely on average to engage in abusive behaviour directed toward a black person."
Rodney King, in his memoir, talked about being abused by white and black officers alike.
Frank Sykes, a former Tennessee deputy sheriff, who is also African American, told the BBC this abusive behaviour comes down to how officers are trained – something that caused him to leave the force.
Officers "will judge a person off a look because you've been trained if 'they look this way, they're bad'", he said. Until Americans take a closer look at how officers are taught, he said, these tragic incidents of police brutality would continue to happen.  
"It's bigger than just the personal officers, it's something that within the whole process of training, that keeps pushing these things to happen," he said. "And it's going to continue creating the same outcome of us vs them."
On Friday afternoon, the family of Mr Nichols held a press conference. As their lawyer, civil rights attorney Ben Crump, spoke, PJ turned the volume up on the barbershop TV.
But if he and the VIP patrons were looking for a straightforward answer to this latest incident of police brutality, they wouldn't get one.
Mr Crump urged the country to focus on changing the culture of policing that allows any officer – regardless of race – to have such a callous disregard for the citizens they are sworn to protect and serve.
As Mr Crump spoke, one man shook his head. "Memphis is complicated man," he said.